Far beyond the white cube: the Drake and Gladstone Hotels
by Alexandre Dias Ramos, Mia Nielsen, and Lukus Toane
Drake and Gladstone are two hotels that go beyond the category of simply being a boutique hotel, bringing the visitors an intense array of arts programming. The following is an animated conversation between Mia Nielsen, Curator of the Drake Hotel, and Lukus Toane, Director of Exhibitions for the Gladstone Hotel.
Alexandre Dias Ramos . Hotels usually have some contact with the art world if/when they buy works to decorate their rooms, but never again after that. When and why did the Hotel decide to include visual arts in its identity and structure, to the point of hiring a curator to develop a continuous program?
Mia Nielsen . That vision [year-round programming] was really led by our owner, Jeff Stober. He purchased the original Drake Hotel in November 2001. His vision for the space was to create a hotel for locals, a place where travellers could immediately immerse themselves in Toronto's creative community.
We don't simply purchase a work of art. Our relationships with artists are ongoing. For example, Micah Lexier, a Toronto-based artist, has a wall here that has been an ongoing project for 6 years now. Then there is Lazy Mom (Josie Keefe and Phyllis Ma), artists from NY, who have a site-specific piece [Nice to Meat You] in our lounge and who we continue to work with. Needless to say, the artists who work here are a part of the fabric of the Drake.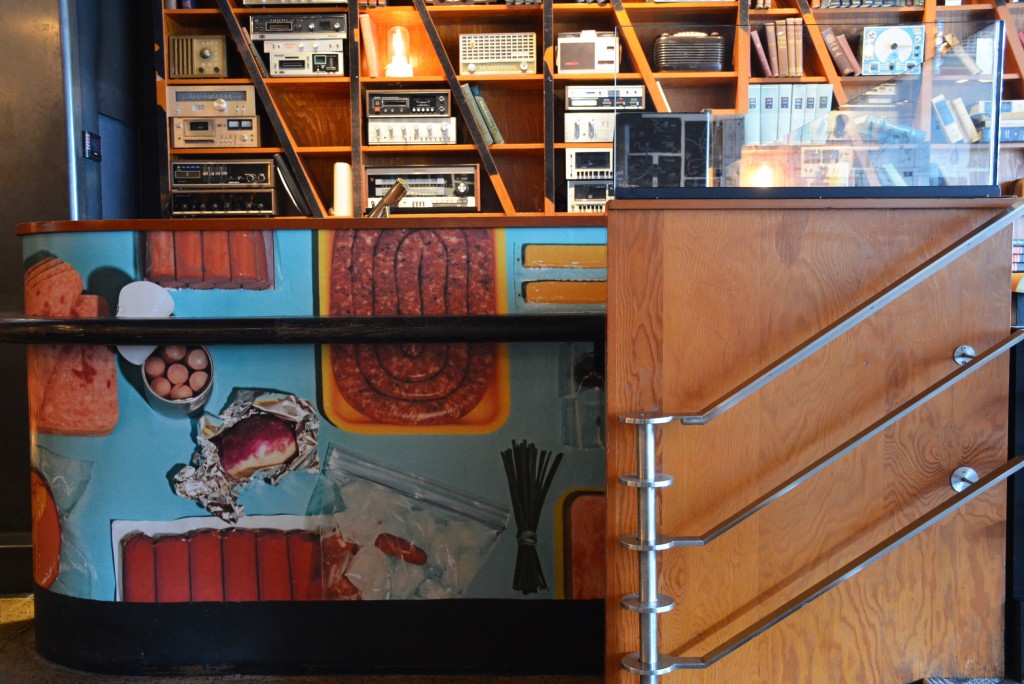 Lukus Toane . The process was quite organic. Christina Zeidler, the developer and president of the Gladstone, is an artist herself. She used strategies from artist culture to develop the business 13 years ago. Christina's background positioned her to have a more profound reason for engaging artists than just as a way to decorate hallways. The revitalization of the hotel became much more tangible when the local arts community got involved. In the beginning, Christina managed the curatorial work herself, as an extension of the development mandate. This eventually led to the need for a full time position to handle our robust exhibitions department and the four floors of exhibition space.
ADR . A hotel is certainly not a traditional space to curate works of art. Its natural condition is not that of a white cube amidst all of the rooms, hallways, furniture, carpets and stairs. Its clients are also much more diverse than the public of museums or art galleries. That being said, what are the challenges of being the curator in a hotel?
LT . I am interested in using the unique historical context of the Gladstone and its function as a hospitality venue as a backdrop for arts engagement. What could we say within this unique space? Hotels are ephemeral and transitional by nature. They are places where many people come and go at different times and the Gladstone really plays with this idea through its cultural programming. As a social and cultural hub we tend to be more active than a traditional art gallery. The mandate is to create a more accessible art space that could be flexible and responsive to what is truly contemporary in art. A really fun part of my role as Director of Exhibitions is being able to provide guests the exemplary hospitality of a hotel within a Gallery setting.
An example of the way in which the hotel incorporates art into its very function is in our Artist Design Hotel Rooms, which was a project conceived by Christina and involved a juried call out to the community. The call asked artists to design a room that exemplified their practice and allowed hotel guests to be active participants in the work as they stayed within it. As a result, each room is entirely unique and also provides the artists an opportunity to showcase their work to an international audience and is indicative of the talent within the city. The other example is our annual Come Up To My Room exhibition, which combines the disciplines of art and design to create a four-day immersive show, where designers "take over" the rooms on the second floor of the hotel and transform them into site specific installations. We started this show 13 years ago as a way to utilize the second floor's hotel rooms which are now used as flex studio space. Since then we have expanded our programming to include other Gladstone-produced, immersive events such as Gladstone Grow Op (a show about urbanism and landscape through the lens of contemporary art), Hard Twist (our group fibre/textile show), That's So Gay (our Pride show on identity and contemporaneity), and Why the @#&! Do You Paint? (a contemporary painting show). We also have a full roster of exhibitions for which we partner with arts organizations across the city.
In short, the most challenging thing at the Gladstone is we are constantly out-doing ourselves in terms of scope and practice.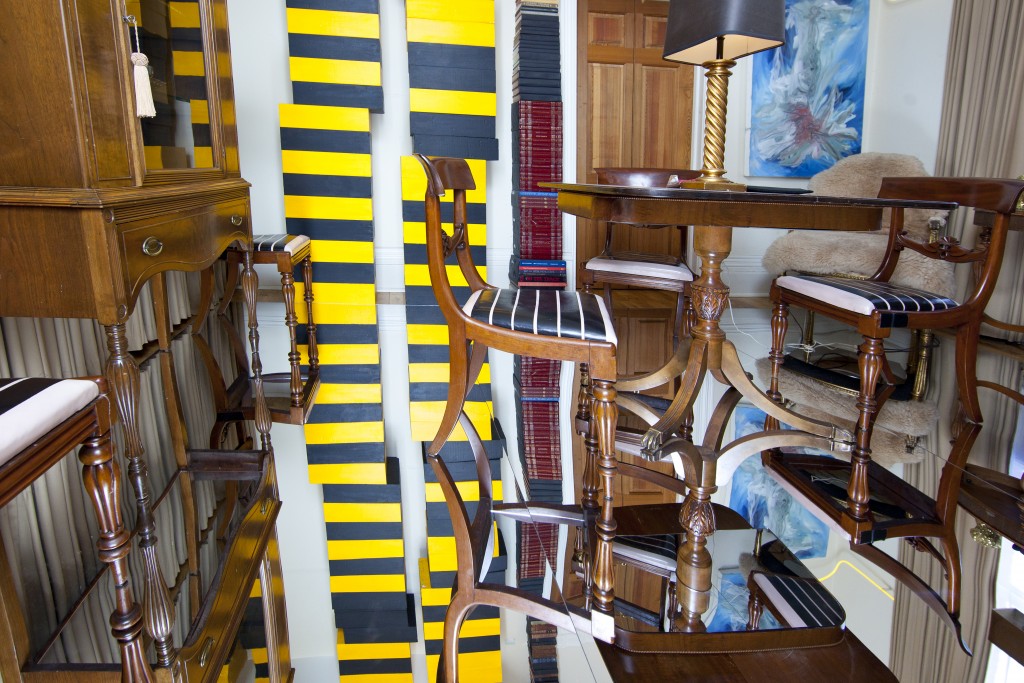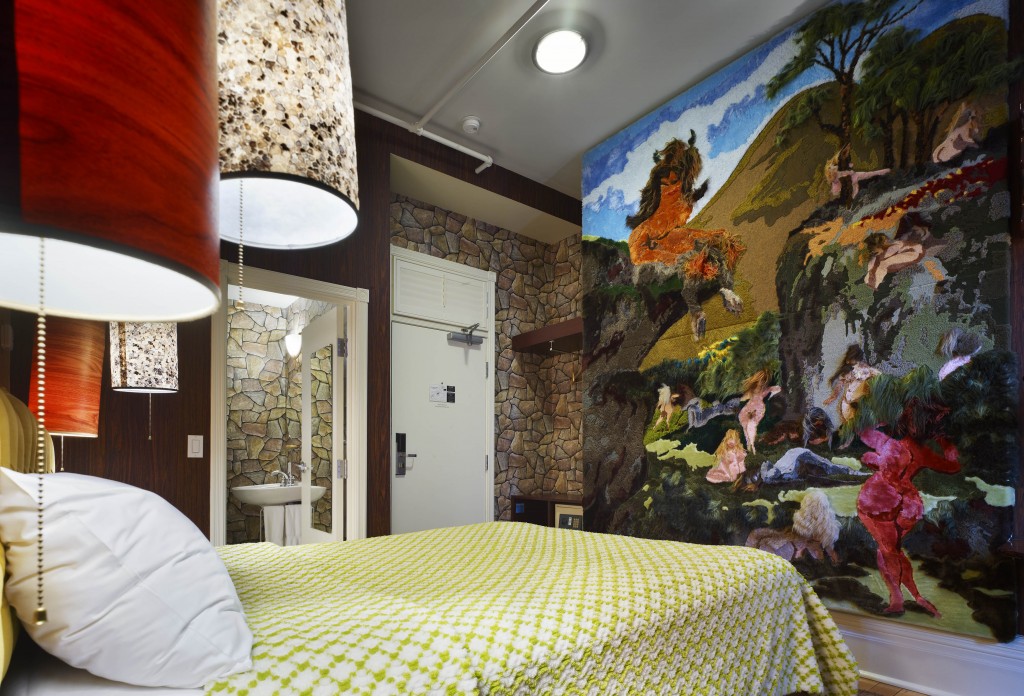 MN . I think a lot about the visitor experience; what is it like to walk through the doors, through the lobby, up the stairs as they pass each piece, what is the conversation that leads you from one work to another? In that sense it is kind of like a museum experience in the sense that I think about that. My love of curating a public space is presenting artwork to diverse audiences. I love that at the same table you can have a 20-year-old, 2-year-old and an 86-year-old, and through this location I get to, in a way, talk to all of these people. And that's amazing. People come in here who may not go to galleries in the sense that they don't come looking for art, but rather, here, the art finds them. For instance, the Evan Penny piece [Back of Kelly V.2] is one of the works that people find curious and I get asked about it all the time because of the nature of the piece. Art people never ask me about it, but people who are new to the arts and don't have the language for it, usually ask me about it and say, "what's the deal with the dude" or "who's that guy?" They are not talking about a bartender, or a doorman, they are talking about the sculpture. It's hard to ask questions about things you don't know about, and this piece allows people to be vulnerable without knowing the language. I want to create a dialogue in a particular space, and the major challenge is that people don't behave here as they would in a gallery.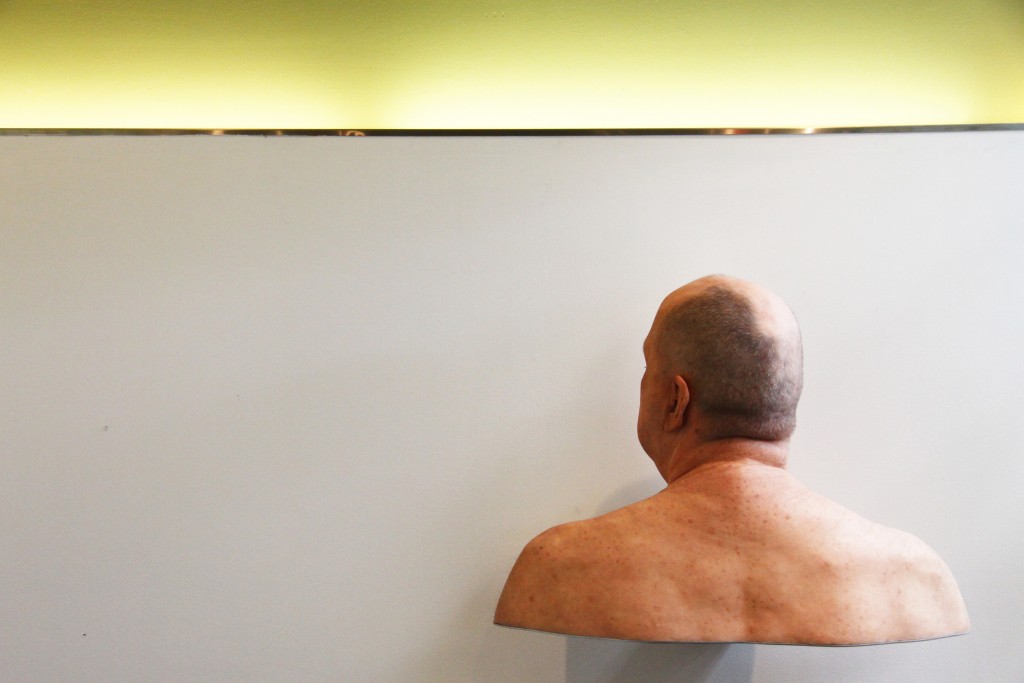 Our cultural program includes visual and performance art, as well as music. We also have three different exhibition programs associated with this venue so we have 5 exhibitions in the lobby, we have long term installations in all of our food and beverage lounges, so anywhere from 2-6 a year, changing periodically. Most of them are murals, large-scale works, and we have a permanent collection, which is in the guest rooms and in some other public spaces. As these spaces change, we have exhibited everyone from OCAD students to internationally significant artists from China, India and Europe. To understand what is significant and important about what is happening locally, you need to have an understanding about what is happening outside of that. There are no limits.
ADR . To continue with the theme of art as "room decoration", I would understand that any artistic intervention in a hotel is ultimately about decorating its environment. When you select projects, to what extent does the aesthetic aspect take priority over the conceptual aspect?
LT . The Gladstone is not just art on the walls. Artistic intervention is in the very DNA of our model where hotel guests quite literally stay in a work of art. During the planning of the year's exhibition programming with curators and artists, exhibitors are encouraged to push the boundaries of their practice. We don't shy away from evocative material in the name of aesthetics. Part of the Gladstone's core values is to maintain a safe-space for artists to engage with the community in dialogue around their work. A big part of this is creating palpable didactic material with each of our exhibitions so that the hotel guests and visitors (no matter their exposure to art) can engage with the works. We also create participatory experiences through tours, performances, artist talks, etc., in order to provide an enriched context for the work. Over the thirteen years the Gladstone has inspired a huge amount of trust within Toronto's various artists communities as a place to show their work.
MN . It is a marriage. It's got to be a marriage. And when you're programming work for public space, aesthetics are important. The wonder of beauty is that it is an excellent tool to disarm people, to help take people out of themselves. Aesthetics are an entry point, but there is always more than that. In essence, it has to be a marriage of strong concepts being shown through aesthetics.
ADR . Do you feel that your choices as curator influence the art market in the city? Conversely, to what extent does the market (artists, dealers, and critics) pressure and influence your program?
LT . The Gladstone's influence is a subtle but powerful one based in grassroots engagement. Artists of all stripes (and we mean that) can trust the Gladstone as a space in which they can take risks. Curators, programmers and arts community members see the Gladstone as a space where they can gather and engage in dialogue around not only their practice but also around the issues (social and political) that drive their work. In this way, across the myriad programs and exhibitions that the Gladstone produces and hosts, The Gladstone has become an incubator for new ideas and talent.
MN . I don't know that I influence the market, I wouldn't say so; however, I do feel that I recognize the market and am totally aware of it. There are some things that I respond to but there are lots of things that I disregard because they are not suitable for the space.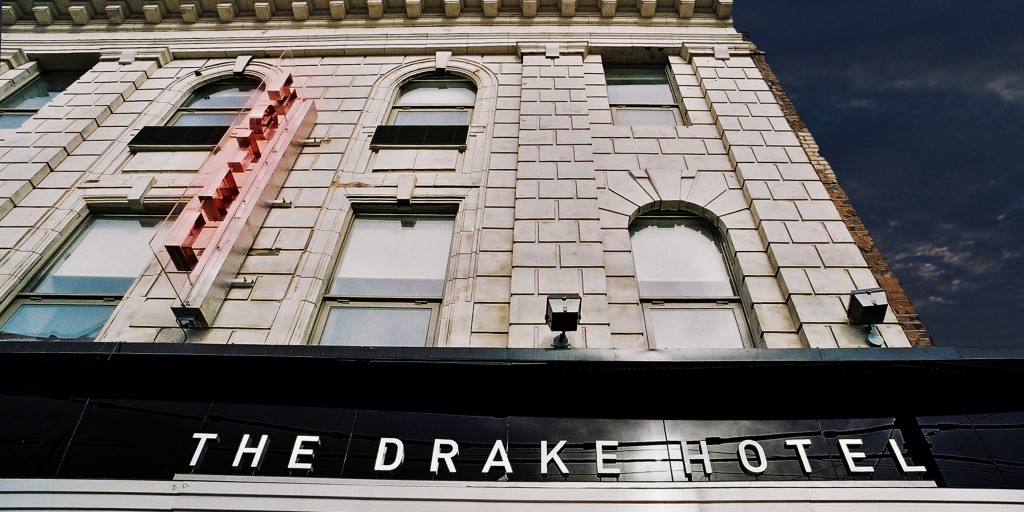 ADR . The Gladstone and Drake hotels, located only two blocks apart, have helped establish and raise the profile of the West Queen West area, which was chosen by Vogue Magazine as the second coolest district in the world. Additionally, both hotels are integrated into Toronto's art scene as hot beds of culture in the city. How, if it all, have your hotels worked together in this journey? To what extent do you compete with or complement each other, considering that your location and clients are very similar?
LT . In terms of our positions and approaches to cultural expression, I believe we approach our respective programming in very different ways. At the level of engagement they are very different experiences, which is fantastic for the area. But at a distance they kind of seem the same, two art hotels with lots of live programming. This is also an advantage as it draws people to the area. They do not need to know the difference until they come down and experience the two different hotels' venues. I think we are extremely lucky to have created a "district" for art and hospitality, the likes of which Toronto has never seen. It is a great atmosphere.
MN . Part of the magic of Toronto is that we all happily coexist here and we represent two sides of the same coin. I think there is a lot of mutual respect for what we do. We do really different things. In terms of the Drake, we do a lot of long-term installations and exhibitions, everything is curated in-house, and we don't offer rental spaces for artists. Every location and venue has a bit of a different personality. And the Gladstone is awesome, people call me and ask if they can show their work at the Drake and I reply by saying that we don't do that, but our neighbors are awesome at that. We are complementary and I'm really proud that, with our programs we create a lot of opportunities for artists. ¶
Top . The Gladstone Hotel building, designed by George Miller in 1889, was renovated in 1913 and restored in 2005.
Special thanks to Leanne Elizabeth Simaan, for recording and transcribing the interview with Mia Nielsen.