Curating the city: Collectioneering and the affects of display
by Jennifer Fisher and Jim Drobnick
Kingston is regularly listed as one of the most livable cities in Canada. With a population of 120,000, above-average income and a stable economy, it possesses the advantages of a city without the challenging social and infrastructural issues that can hamper major urban centres such as Toronto or Montreal.1 Citizens take pride in the region's historical significance, especially its prominence in the nineteenth century when it was the residence of Canada's first prime minister and served as the country's capital (1841-44). Since then, the erosion of its role as a seat of government has been offset by the establishment of sizable public service institutions for health, corrections, education and the military, which now dominate the civic landscape. Home to nine prisons, three hospitals, three universities and one of Canada's primary military bases, Kingston in 2001 had the somewhat dubious distinction of housing the largest number of incarcerated in the country, along with sustaining the nation's biggest student population per capita.
Given the significance of such substantial and long-standing institutions of power and knowledge, Kingston exemplified what we called "a Foucauldian dream" readily evident in the organizations of surveillance, punishment and regulation that suffuse the civic environment. What is distinctive about Kingston is that many of these institutions are funded and directed by officials located elsewhere — prisons and the military are the responsibility of the federal government in Ottawa, while hospitals and universities are overseen by the province in Toronto. Yet, even as these institutions impress formidable edifices upon the urban landscape and comprise the city's main employers, they stand somewhat detached from the local community.2 The result is a "silo" effect whereby each institution functions for, and answers to, governing bodies external to Kingston, thus disengaging them from the immediacy of the city's concerns.
One of our goals in curating Collectioneering (2001) centred on transforming Kingston's evident institutional isolation by provisionally connecting its disparate museums through their collections. In our initial research we were struck by the number and diversity of museums and historical sites in such a medium-sized city, made all the more remarkable for their apparent insularity. Each category of institution — hospital, prison, university, military — had established at least one museum or designated heritage site, and each supported an ongoing collection to document and animate its history. Through extensive site visits we developed a network of participating museums from across the city and sought to link the diverse material culture of Kingston's institutions within one project.3 In many ways, the relationships we established in curating Collectioneering resulted in a show that drew from both formal and historical narratives to curatorially re-examine the artefacts, settings, relationships and governing discourses of the city's museological heritage.
Collectioneering presented over 400 artefacts that we borrowed from the city's collections and then arranged in non-inferential, or primarily affective, juxtapositions in the manner of a post-medium cabinet of curiosities. Like the artists' interventions situated at the sites themselves, Collectioneering engaged the neologism "museopathy": our term for the peregrination of the "paths" that linked the collections of the city as well as the "pathic" or affective modalities of collection triggered by the configurations of objects from disparate institutions.4 While all of the components of Museopathy pertained to the affective qualities of objects and spaces, each engaged affect quite differently. The interventions by artists into museums and heritage sites were immersive and involved installing works within highly charged contexts. Collectioneering, by contrast, reconfigured museum objects into ludic and compelling relationships intensified by their links to multiple sources, patinas and tales of provenance.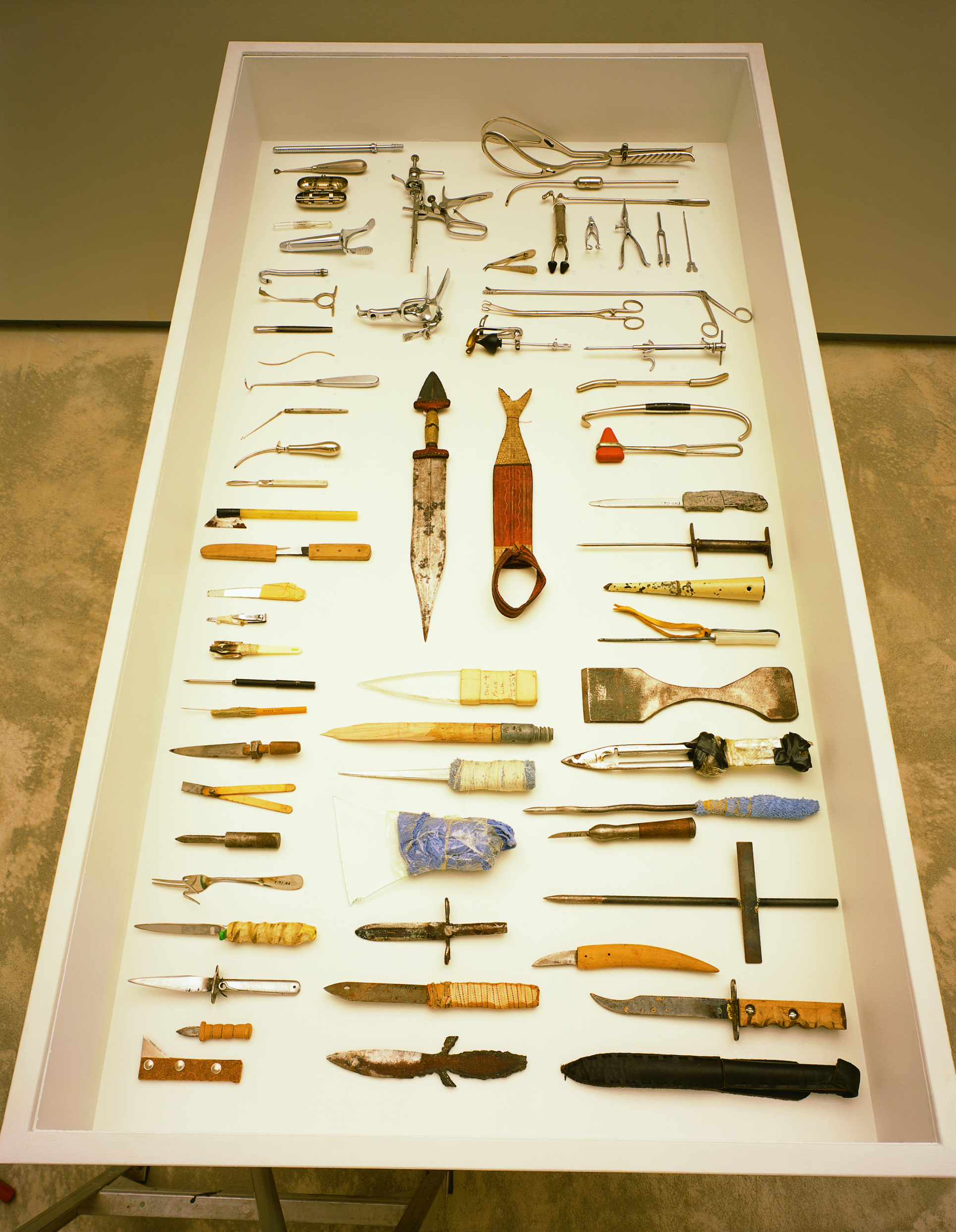 Displaying the objects of Collectioneering in the white cube of the Agnes Etherington Art Centre had the effect of strengthening the aesthetic gaze upon non-art artefacts: the objects would be temporarily viewed as art before returning to the locations (and meanings) of their originating collections. By reconfiguring the ways in which objects could be posed in a city's self-representation, Collectioneering proposed a meta-museological display within Museopathy's overall exhibition context. Merging art and artefacts in mutual relationships, the project spanned disciplinary boundaries to posit uncustomary linkages between aesthetics, history, popular culture, science and art. These temporary configurations in turn generated discussion about the conventional meanings and practices of collecting, display and museal experience.
Resulting from a two-year-long material trek through the vitrines and storerooms of a dozen Kingston museums and historical sites,5 the titling of Collectioneering intentionally called to mind the activities of orienteering and mountaineering, pursuits that match physical endeavour with focus, patience, intuition and endurance. On a civic level, Collectioneering tracked how a community collects itself and constructs a historical, geographic and public identity; on a museological level, it proposed a dialectical display practice that posed the affect of patina against the discourses of provenance; on a curatorial level, it presented objects in heuristic constellations that invited viewers into present engagement, rather than into a museological past. Our curatorial concept expressly sought to focus the exhibition as a sequence of affectively charged moments that intensified the relations between agents, objects and museums.
Excerpt from the book The Artist as Curator. © 2015 Intellect Ltd; all rights reserved. Used by permission.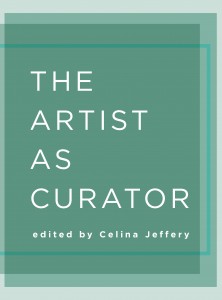 The Artist as Curator
edited by Celina Jeffery
204 pages, softcover
Intellect, Bristol, UK / Chicago, USA, 2015
intellectbooks.com
.
Top . Collectioneering, installation view of The Good Samaritan, c.1665, oil on canvas, by Reyer Jacobsz van Blommendael (1628-1675), collection of the Agnes Etherington Art Centre, Queen's University; and stretcher, 1890s, canvas and wood,  of the Museum of Health Care at Kingston, Bird Collection. Photo: Paul Litherland.
1 . This is not to say that the city does not have its own set of problems. Austin Kenneth Hracs articulates several that are specific to Kingston: a lack of cultural diversity and tolerance; social and economic polarization; distance from other urban centres; and an ethos of a garrison town.
2 . This detachment of the local community carries an aspect of social traditionalism and privileged exclusion. Local lore states that to be considered one of Kingston's "old stones" (i.e. a respected and influential member of the community), one's family must have resided in the city for three generations.
3 . Collectioneering was in part facilitated by an informal organization, the Kingston Association of Museums, Art Galleries and Historic Sites, which was formed in the early 1980s to promote the city's culture and history (www.kingstonmuseums.ca).
4 . The "pathy" in Museopathy could also be said to refer to the curative logic of homeopathy (rather than of pathology) in which "like treats like''. Each artist installing an intervention to some degree mimicked aspects of museum display present at the site itself. Interestingly, the term "museopathy" has been taken up in a similar fashion by museum professionals working in conjunction with hospitals to facilitate patients' well-being.
5 . As newcomers to Kingston, we were indebted to the expertise of the curators and directors of the museums, especially their patient behind-the-scenes tours, in-depth knowledge and endless delight in sharing their objects.