Architecture and new technologies: the museum as mass phenomenon
by Bianca Lupo
Increasingly stimulating, museums are attracting people from all walks of life, not only with their exhibitions, but also are drawing in people who admire the diverse styles of architecture
Museums are currently enjoying a marked increase in popularity. Long lines, ambitious architectural projects and extensive coverage in traditional media and social networks have become common in recent years. Museums are increasingly playing host to a more diverse range of visitors and are mixing leisure, culture and entertainment. In fact, museums are now "must-see" attractions on the cultural and tourist circuits of cities, fuelled by heavy investment in marketing, production, and renovation of permanent exhibitions that expand their reach.
The museum as a mass phenomenon is relatively new, born of the post-modern society of the 1970s. So-called "museum culture", characterized by realizing the potential of a broad gamut of producers and consumers of cultural artefacts, has employed a range of promotional and creative resources to transform the culture into a grand success.
Large-scale architectural interventions — generally using innovative, apparently high-tech, construction materials and techniques — are strategies for generating interest and promoting the institution. The restoration and refitting of historical buildings has contributed enormously to the development of adjacent public spaces. Architecture has come to be seen as a vital element of communication, dominating space with its persuasive and symbolic power, in spectacular spatial experiences based on projects by renowned architects. Examples of this include Paulo Mendes da Rocha's National Coach Museum (Lisbon, 2015), Zaha Hadid's National Museum of XXI Century Arts (Rome, 2009), and Daniel Libeskind's renovation of the Royal Ontario Museum (Toronto, 2007).
On the outside, the spectacular architecture of museums has made an important visual mark on the urban fabric of cities. Likewise, inside, in addition to the auditoriums, gift shops, cafés, bookstores and cyberspaces that invite the visitor to stay, a number of measures have been adopted to make exhibitions more attractive, colourful and seductive. Therefore, current architecture and exhibition design both seek to impress the general public as well as expand their capacity to relate to what they're seeing. It is thus common to find monitors, screens, projections, light and sound spectacles, performances and other features that bring the language of museums closer to the intrinsic characteristics of the information era.
Other resources have been mobilized to facilitate communication between the museum and the general public: audio-guides, mobile tags, QR Codes, and apps add various levels of information to the visit. Some of these resources can also be used outside the museum space, creating new ways of reaching out to the public — before, during and after the visit. The museum thus encourages the active participation of museum-goers in the production of artistic meaning and becomes a space for a mutual construction of knowledge.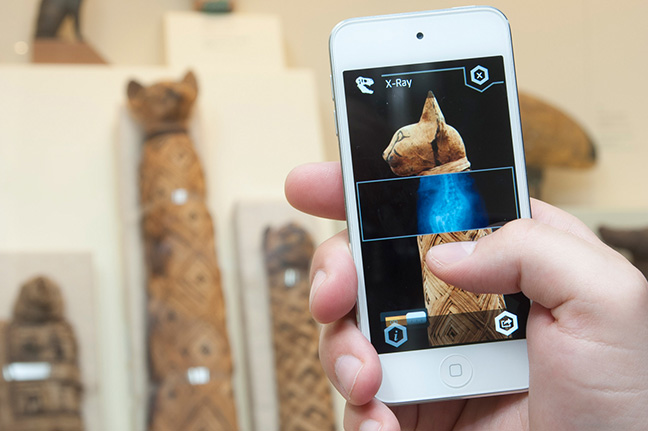 Apart from fostering new relationships between visitors and art objects, the incorporation of digital tools in museum spaces has also created new possibilities regarding the preservation of historical and artistic heritage. Furthermore, it is no longer even absolutely necessary that works of art be physically present for a museum to exist, as can be seen from the proliferation of institutions that have no collection but use technology to present, in a playful and imaginative fashion, free and non-material themes. It is thus possible to expand the field of action of museums by approaching new kinds of heritage. In such cases, museum research centers on activities such as collection of testimonials, videos, interviews and digital archives. Such cases include the House of Terror Museum (Budapest, 2002), the Museum of the Portuguese Language (São Paulo, 2006),1 the Football Museum (São Paulo, 2008) and the Museum of Jewish Montreal (2010).
Such profound changes have provoked a series of reflections on their significance and consequences. How do the architecture of museums and their relationship with their collections respond to the new demands of the contemporary world? How does the museum relate to the general public in a digital age? How can new themes be incorporated into the museum space? These questions are clearly not easily answered. In some way, this would seem to be the perfect time for those interested in museums to visit them, think about and reflect upon them. And why not take a selfie before you leave? ¶
Top . The façade of the Royal Ontario Museum, Toronto, Canada. Photo: Sam Javanrouh. © Royal Ontario Museum.
1 . In December 2015, the Museum of the Portuguese Language, located in the Estação da Luz building, was destroyed by fire. However, the digital nature of the collection meant that it was possible to recover it using existing backups – demonstrating the new possibilities opened by the use of digital technology in the field of the preservation of heritage.