The exhibition as a picture of the Americas
by Alexandre Dias Ramos, Georgiana Uhlyarik,
Peter John Brownlee, and Valéria Piccoli
The three curators talk about how it has been to prepare the largest exhibition ever made on the landscape of the Americas
The exhibition Picturing the Americas: landscape painting from Tierra del Fuego to the Arctic is being exhibited at the Art Gallery of Ontario in Toronto, Canada (June 20 – Sept. 20, 2015), the Crystal Bridges Museum of American Art in Bentonville, USA (Nov. 7, 2015 – Jan. 18, 2016), and Pinacoteca do Estado de São Paulo in Brazil (Feb. 27 – May 29, 2016).
Alexandre Dias Ramos . How long did the planning of the exhibition take, and how did you come to be invited to participate as curator?
Valéria Piccoli . The first conversations took place in 2010 in São Paulo between Elizabeth Glassman and Peter John Brownlee, from the Terra Foundation for American Art (TFAA), and with the former Director Marcelo Araújo and the former Chief Curator Ivo Mesquita, from Pinacoteca do Estado de São Paulo. As the conversation eventually evolved into a partnership, I was appointed to participate as a curator due to my previous experience in the study of landscape painting in Brazil.
Georgiana Uhlyarik . Actually, you might say it all started in the late 1980s, with Ivo Mesquita travelling to Winnipeg one February and seeing Canadian landscape paintings for the first time. It made him wonder what an exhibition that examined the tradition across the hemisphere might reveal. In 2011, the Terra and the Pinacoteca embarked on making his inquiry a reality. They reached out to the Art Gallery of Ontario (AGO) and we became partners on this journey… nearly five years in the making, or over 25 if you think about it from Ivo's perspective.
Peter John Brownlee . Exactly. In early March, 2010, the Terra Foundation visited the Pinacoteca do Estado de São Paulo. It was the first stop on a tour of museums and cultural institutions in São Paulo, Rio de Janeiro, Buenos Aires, and Lima. During our meeting, Ivo Mesquita mentioned the idea for an exhibition that examined landscape paintings from across the Americas. A year later, the Pinacoteca and the Terra agreed to collaborate and invited the AGO as the project's northern partner.
We held our first curatorial meeting at the Pinacoteca in São Paulo in April 2012. Along with the three curators, invited advisors Natalia Majluf, Director of MALI in Lima, Roberto Amigo, Curator at the Museo Nacional de Bellas Artes in Buenos Aires, and Alberto Nulman, from Institute of Aesthetic Research (UNAM) in Mexico City also participated in three days of intensive workshops. We held our second curatorial convening at the AGO on October 2012, which also included an advisory committee of academics and curators to discuss the exhibition's concept and scope as well as the working checklist, thematic sections, and ideas for the publication. The curators met again at the TFAA in May 2013 for another round of checklist revisions. The process continued in this way until the checklist was "finalized" and approved by our respective directors. At that point, loan letters were issued, and responses began coming in, which indicated which requested works would be made available for inclusion in the exhibition.
ADR . How were the works chosen and what criteria were used?
PJB . After days of discussions, the first step in beginning to compile works for consideration involved hanging hundreds of color reproductions of paintings on the walls of our meeting room in São Paulo. That was the first time we could actually see the immensity of all that we had learned the day before, when participants offered introductory presentations briefly describing the evolution of landscape painting traditions within their respective art historical traditions. Needless to say, our heads, and our eyes, were spinning.
We grouped images by themes that ranged from literary landscapes to scientific exploration. Themes of work and leisure, of encounter and conflict, and of traditional forms of land use and the effects of modernization began to coalesce as images found their way into loose groupings.
Over subsequent meetings, at the AGO in Toronto, at the TFAA in Chicago, and with advisors in Mexico City, the curators refined these categories, a list that expanded and contracted as we added and discarded images in an attempt to find those paintings that best expressed a particular theme and that "hung" well together.
GU . We spent a lot of time learning from each other and talking about the way in which landscape painting is discussed within our respective national schools. In Canada, for some decades, we look at it through a lens "beyond wilderness," to understand how the land has been imagined as empty and vast, when it reality it has been full of people, culture and traditions for thousands of years. The three of us co-curators talked about the different ways landscape is a construct, a framing device for values and aspirations of burgeoning settler nations. Each of us has a very unique interest and background; it was a wonderful triumvirate as we disagreed as much as we agreed.
As we realized early, this is such a vast topic, we are at the beginning of the conversation — offering to shift all of our perspectives regarding paintings that have become iconic in each country. We started there — with the icons and talked about how they measured up when taken out of the nationalist context.
VP . From the beginning, my co-curators and I were aware that our knowledge of the topic was very much confined to our specific regions. We agreed to create a scientific committee that would help us gather significant material on landscape traditions in the various countries of the Americas. Many advisors, from all over the hemisphere, were engaged in the project at different levels of its development. Their generous collaboration was crucial to give us the means to formulate a narrative that could make sense of all that we had in our hands. Among the many possibilities for making an exhibition with this material, our main choice has always been to show landscape paintings in their connection/interrelation to the history of the Americas. So it was about showing beautiful paintings but also works that could speak to subjects like conflict over land, use of resources, scientific exploration and national identity, for instance. Paintings that could help us understand our relationship to the land and different notions of belonging to a particular place.
ADR . Getting 118 works on loan from 51 institutions must have been a complex task. How did the relationship with each country or institution impact the final curation?
VP . It was a very complex task indeed. First of all, we knew that we were asking for works that are considered to be masterpieces in their institutions/collections. And we were asking them for permission to travel with these works for around one year, which can be a lot of time in many cases. So it was important to work with an "ideal" list but also count on an extensive list of possible alternates.
The level of negotiation required for each loan varied a lot, from the more political ones to a simple personal approach. We learned during the process that some institutions simply don't have the experience in lending for international shows, others demanded an unimaginable amount of paper work, others just cannot let their works leave the country, and so on. There was not one standard situation.
GU . It has been a complex and wondrous process, in diplomacy and determination. We have negotiated loans in several languages, over a long period of time. There were some disappointments, but there were also some miraculous results.
PJB . You said it! The curators anticipated difficulty in securing loans from certain countries, especially as we were requesting iconic paintings that serve as emblems for entire nations as well as the prestigious museums that hold them. Our expectations were confirmed in certain places and confounded in others. On the whole, the project received widespread support from museum directors and curators. However, a painting's condition or its ability to safely travel as a result of its condition made certain paintings unavailable. Moreover, on several occasions, ministerial bureaucracy, or exorbitant costs associated with a particular loan precluded the inclusion of desired works.
The study of art history is premised on the gathering of images for comparative study, a nearly effortless task in the era of digital imagery and internet search engines. Even reproducing images in publications is relatively easy in this day and age. The exhibition of actual artworks, in contrast, is quite complex. Each and every loan of paintings involves conservation, crating, shipping, insurance, climate control, customs clearances, loan fees, and the orchestration of shipments and couriers.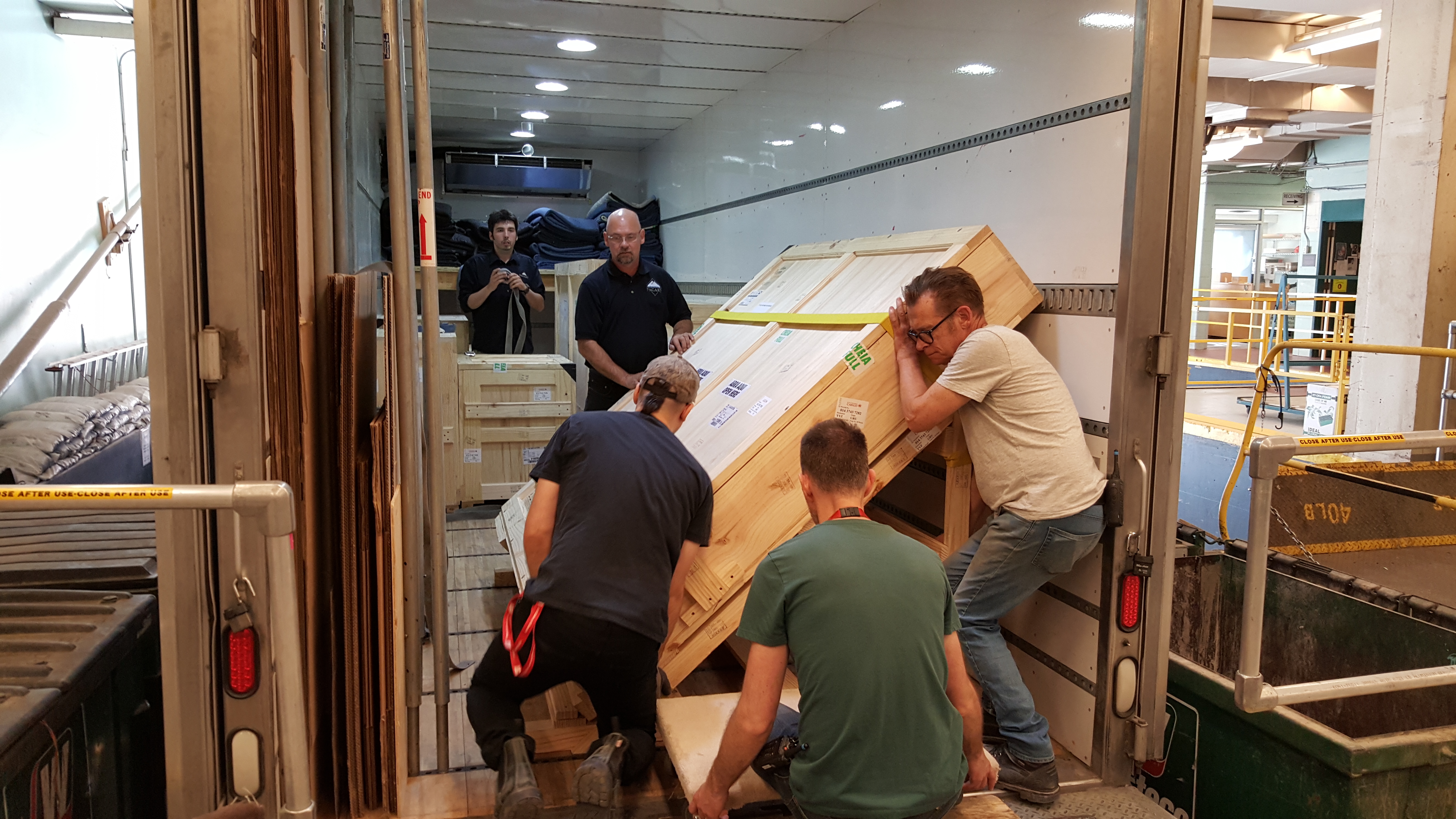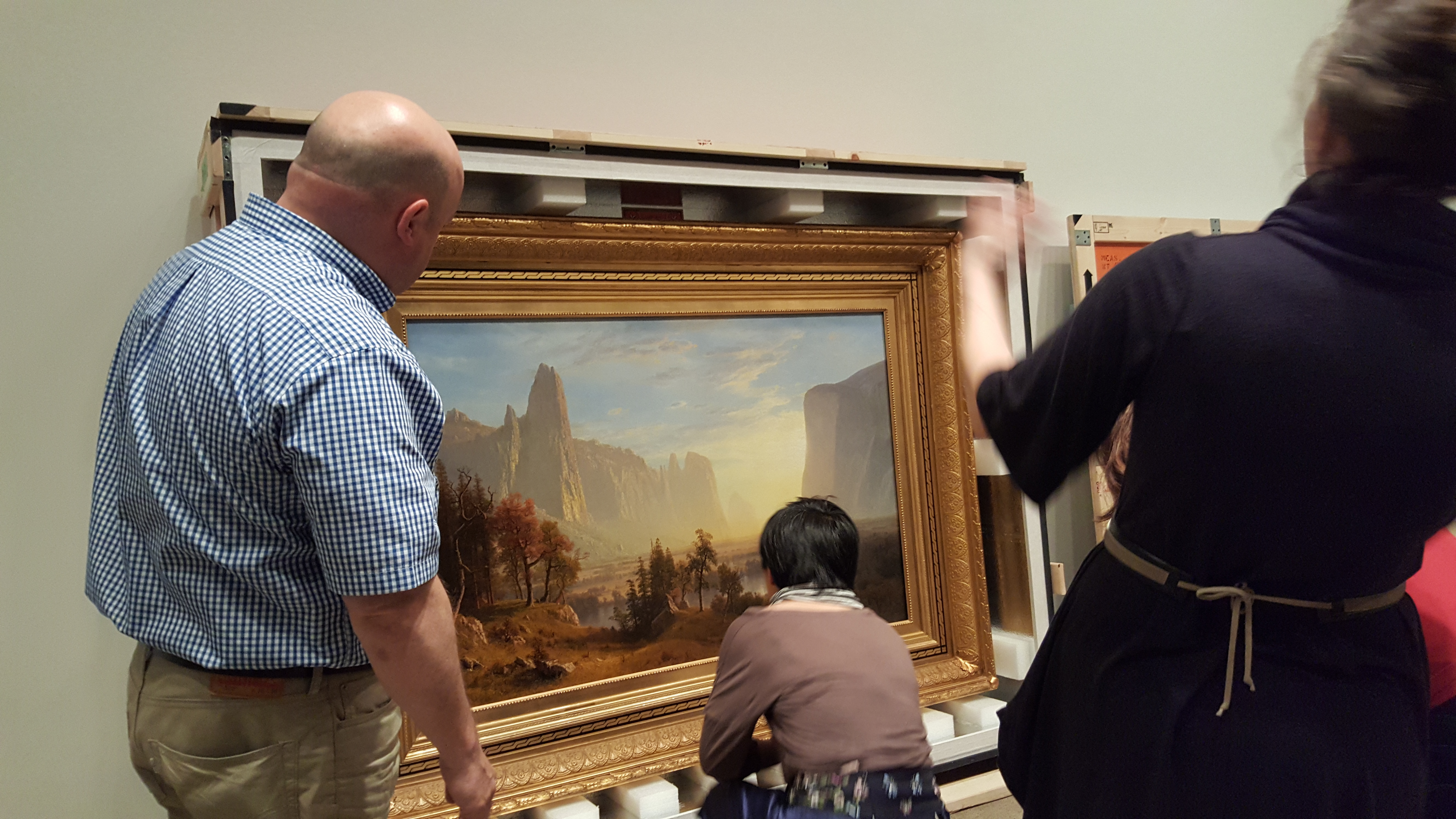 To help facilitate conversations about the exhibition and the possibility of loans, the curators traveled extensively in North and South America, visiting museums in Ottawa and Montreal, in New York, Washington D.C. and Lincoln, Nebraska, in Mexico City as well as in Lima, Santiago, Buenos Aires, Montevideo, Rio de Janeiro, and São Paulo. We even traveled to Berlin, Munich and Vienna to select for the exhibition works by the traveler artists Ferdinand Bellermann, Johann Moritz Rugendas, and Thomas Ender.
Seeing the works and in-person visits to colleagues at museums make a huge difference, but even such visits cannot remove all obstacles to securing loans. Exhibitions of this scale and scope, regardless of their subject, are extremely difficult and costly to assemble. But, of course, they are extremely rewarding and culturally enriching. Picturing the Americas is particularly rewarding in this regard, as it is the first exhibition to take an expansive view of landscape painting across the entire hemisphere; in numerous instances, it represents the first time that works by several of these artists have ever been exhibited together: paintings by Grant Wood of the United States hanging next to a similar painting by Anne Savage of Quebec; a work by the French-born, Brazilian painter Félix-Émile Taunay hung in concert with Canada's Cornelius Krieghof, Mexico's José María Velasco and Albert Bierstadt of the United States; or Uruguay's Pedro Figari hanging alongside his fellow modernists, including Tarsila do Amaral of Brazil, Canada's Lawren Harris, Mexico's Gerardo Murillo, better known as Dr. Atl; Venezuela's Armando Reverón, and Georgia O'Keeffe from the United States. Many of these juxtapositions are firsts. It is truly amazing to see these works together.
ADR . This exhibition will be displayed in three different museums, so we can say there will actually be three curatorial settings within the same curatorial project. How will the displays be adapted in each exhibition space?
GU . From the start we understood that the project really unfolds not in one venue, but across the three — across the Americas as it were. It has a different context in each location and thus accumulates depth as it travels. In Toronto at the Art Gallery of Ontario it is surrounded by the history of Canadian art and a diversity of contemporary Indigenous works of art as well as commissions and public programs specifically responding to the exhibition. At Crystal Bridges it will be fully immersed in the richness of art from the United States. While at the Pinacoteca, it will resonate among the newly installed galleries of Brazilian art. It will be a privilege to be able to see it in all three venues. We three co-curators have developed the conceptual exhibition plan which is then realized in each unique space. The curator of each venue is most familiar with her museum spaces and thus takes the lead in the installation, however the exhibition's themes and thesis is at the core.
PJB . Due to the logistics of loans, a selection of artworks will rotate in and out of the exhibition's checklist at each of the three venues. As Georgiana rightly said, each museum is different in terms of its own collections that will contextualize the Picturing the Americas exhibition or the layout of its galleries in which the exhibition will be shown. Each of these very different museums handles exhibition design in its own way and implements unique interpretative strategies to engage with diverse and very different audiences. Each of the exhibition's venues will tailor its presentation to increase the show's resonance and enhance their visitors' experience of it.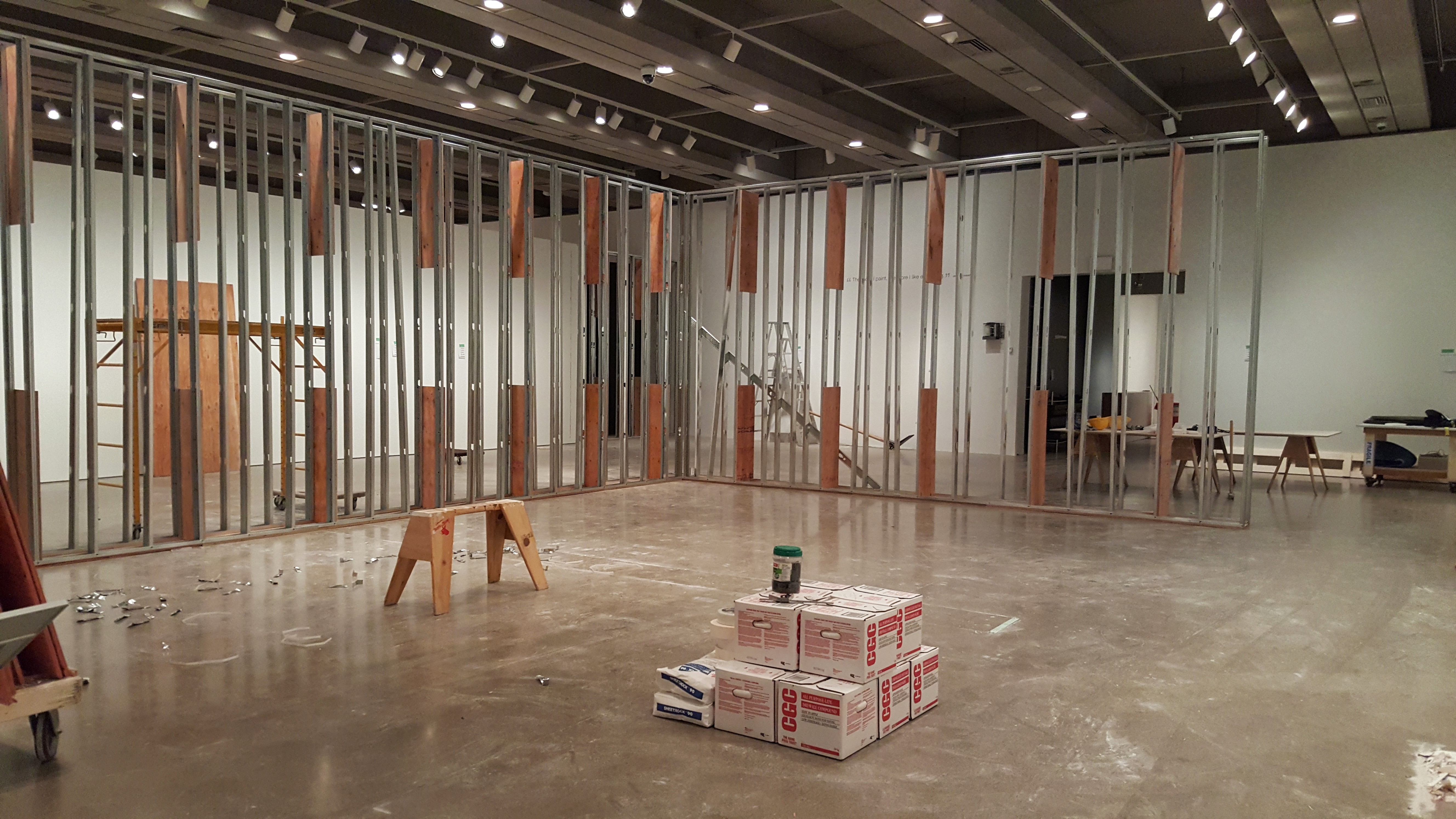 VP . The idea was to guarantee that the exhibition would present significant works at all the three venues, in spite of certain absences. In that sense, our list of replacements was as fundamental as our willingness to negotiate with institutions and collections in order to achieve that goal.
PJB . Moreover, preparing the exhibition's catalogue, which features 48 authors from across the Americas, was nearly as complex as organizing the exhibition itself. The catalogue will assume three forms as it is being published in English, Spanish, and Portuguese editions. So, just as work concluded with the first edition, translation is already underway for subsequent publications. We are also developing a website to archive the exhibition's contents, again in multiple languages.
ADR . Since the first of the exhibitions was inaugurated at the AGO, what can be understood (positive and negative) about the difference between the initial project and the actual exhibition?
VP . Only positive aspects, in my point of view. It was rewarding to see that the narrative really works as you move from one room to the next. The replacements proved to be efficient in keeping the rooms cohesive and the strategies planned by the interpretive team at the AGO really enhanced the possibilities for how the audience could encounter the work.
PJB . We are proud to say that our curatorial vision, premised on the integrated, thematic approach to arranging the exhibition's checklist, the inclusive attempt to geographically represent as many areas of the Americas as available landscape paintings would allow, and our desire to engage and include regional specialists in the interpretation and contextualization of the works, remained intact throughout the process.
GU . The initial project has evolved — it is the nature of our inquiry. As our ideas developed during our many hours of discussions, travels, reading and writing, as well as consulting with many scholars, curators, and artists, the exhibition morphed into what visitors are able to experience today at the AGO. I would say that our initial vision and ambition has been realized, and now we are able to spend time with the works together and continue our inquiry… alongside our visitors in a very public way. Our discussion has now opened up to all and we are learning every day from those who are only beginning their own Picturing the Americas. ¶
Top . Exhibition Picturing the Americas, Art Gallery of Ontario, Toronto, Canada. Photo: Alex Ramos.